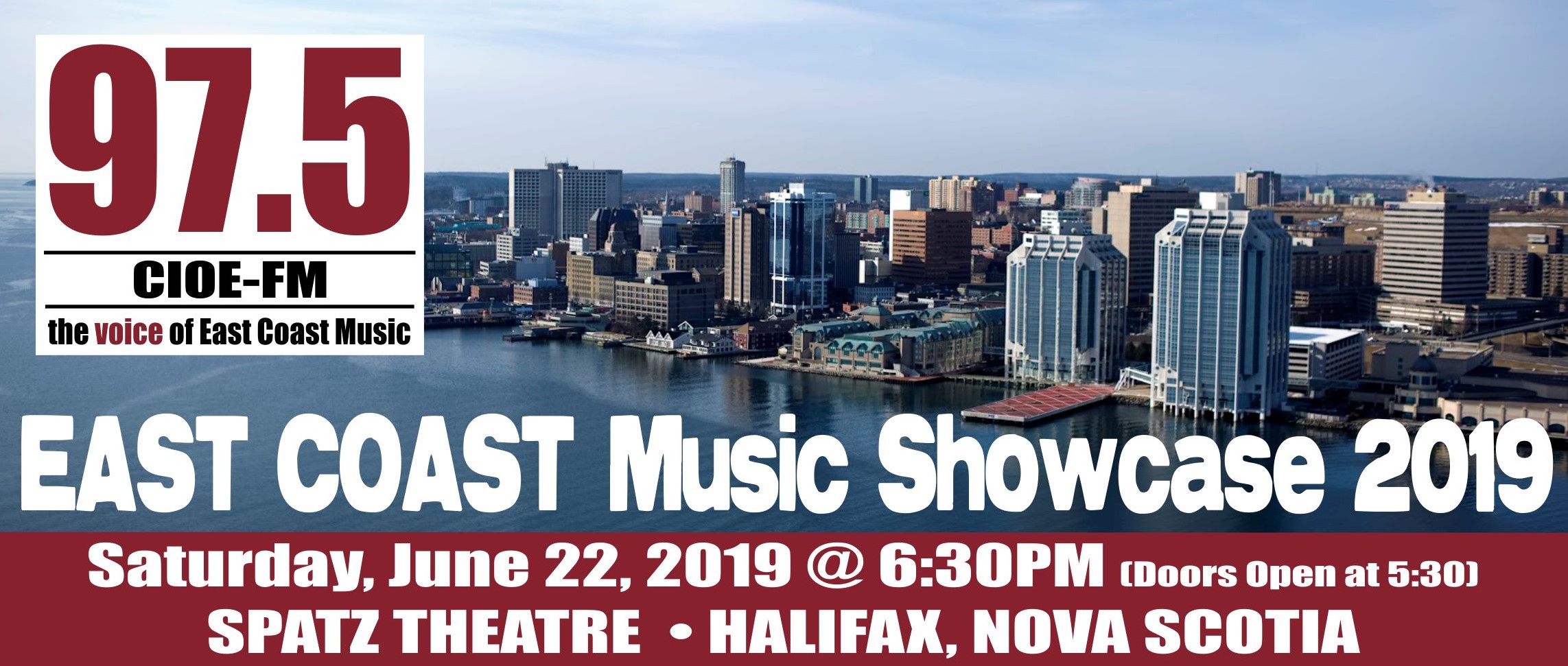 CIOE East Coast Music 2019 Summer Showcase
Saturday, June 22nd, 2019 at 6:30pm - Doors open 5:30pm
The Cobequid Radio Society, CIOE 97.5 FM the Voice of East Coast Music is pleased to announce an East Coast Music 2019 Summer Showcase at the Spatz Theatre on Saturday, June 22, 2019. The showcase will feature a diverse lineup of East Coast talent headlined by award winning lineup of artists: JP Cormier, James Hill & Anne Janelle, Laura Smith, Garrett Mason and Jessie Brown. Tickets are $35 and are available now.
CIOE 97.5 FM broadcasts over 97.5 hours each week of Atlantic Canadian artists from virtually every genre to over 520,000 listeners per month through on-air coverage in the HRM and beyond through our livestream. CIOE 97.5 is totally committed to exposing and promoting the treasury of world-class talent through over 85 hours of locally produced programs produced per week specializing in music/talk-based themes. Included among our East Coast music shows and features are the East Coast Artist of the Day, East Coast Kitchen Party, The Wolf's Den, East Coast Rising, Fresh from the East Coast, East Coast After Dark, Cape Breton Calling, NewFound Records, Newfie 30 + 30, and The Voice of New Scotland, to name a few.
"CIOE 97.5 FM is refining the definition of Radio in Canada, expressing with passion the importance of locally relevant, community driven programing that shares and promotes the wealth of talent in the East Coast. CIOE is dedicated to being a vehicle to share the treasure trove of creativity and talent that is world class" – Jim Robson, CIOE Chairman and Former CRTC Commissioner.
CIOE is a volunteer run community driven organization overseen by the Cobequid Radio Society, which hit the airwaves May 2015. CIOE is unique as one of the first radio stations in Canada to house a live performance stage that will seat 110 people along with a community art gallery "Gallery 97". Playing host to a number of monthly East Coast Music concerts from such well known East Coast Artist such as Hal Bruce, Jim Henman, Keith Mullins, JJ Roots and Ian Sherwood to name a few. CIOE produced a legacy project called The Great Nova Scotia Songbook, a 10-episode program that chronicled music from Nova Scotia's past and present in more than 40 interviews and 300 songs.
For more information on the East Coast Showcase or CIOE 97.5, contact Jim Robson at 902-252-7975.