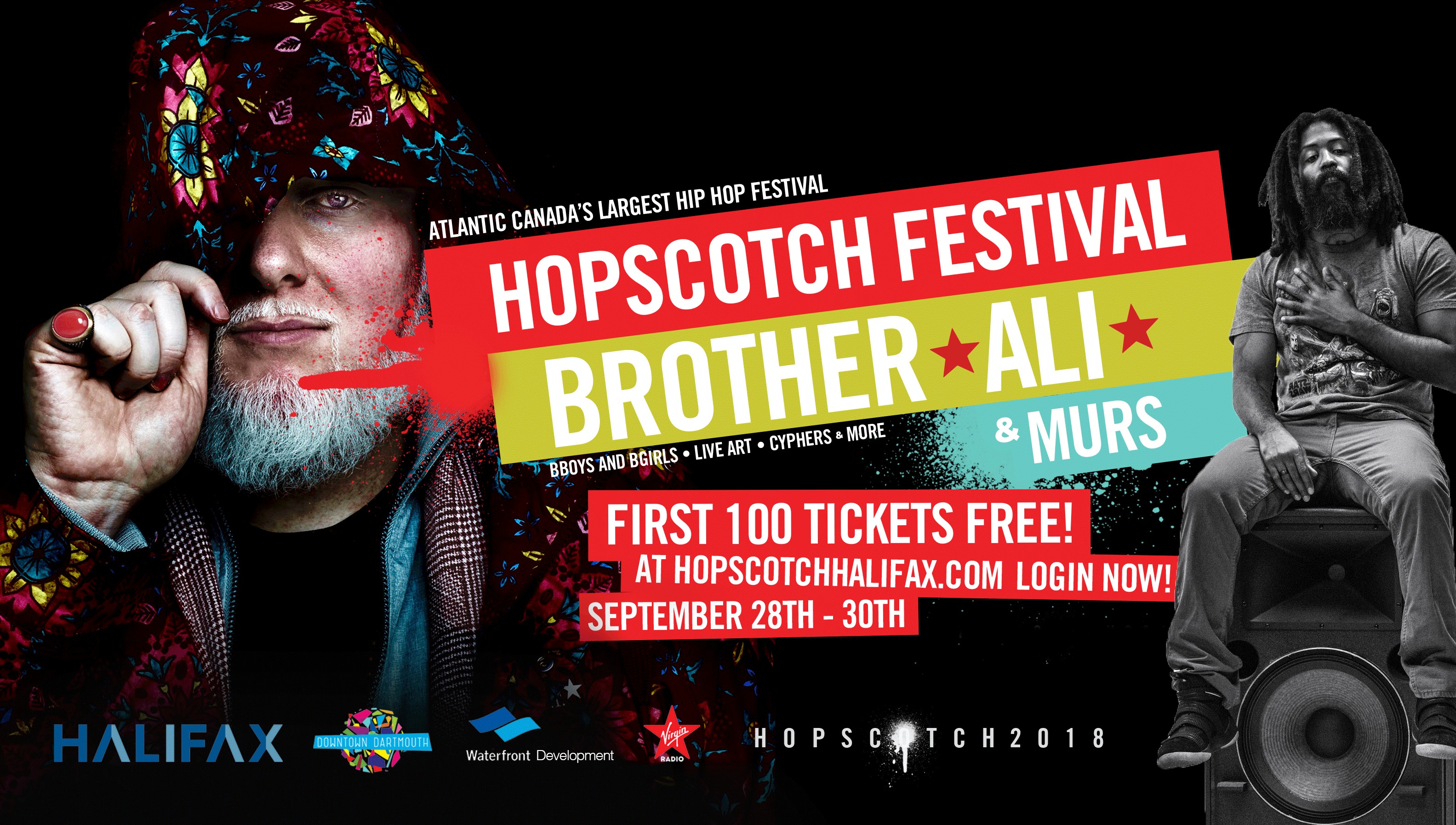 Hopscotch Festival Main Event - Brother Ali + MURS + More
HOPSCOTCH 2018
ALL AGES w/ a 19+ Zone
Dartmouth Ferry Terminal Park
**The Big Green Space Closer to Ferry**
400 Doors Open - LIVE Murals
415 BGirl/Bboy Battles + Onset Dance
530 Apollo 13
550 Dj IV, Cyphers, Live Art
620 The Cypher Hosted by Shevy Price
640 The Woods Dance Troupe
650 Mawio'mi – Hip Hop Meets Traditional Drum
715 Aquasocks - Ghettosocks & Aquakultre
745 Murs (Strange Music, USA)
830 Brother Ali (Rhymesayers, USA)

Atlantic Canada's Largest Hip Hop Festival Returns! This year we are taking over Dartmouth Ferry Terminal Park. Right on the ocean and surrounded by Hip Hop Culture. Live Art, Dance, DJs and Emcees! This is a chance to celebrate youth and enjoy modern entertainment on the East Coast
HEADLINERS

BROTHER ALI - Millions of views on his music and he's travelled the world pushing Hip Hop to the masses through one of the most respected crews in Music. Rhymesayers legend Brother Ali will have his first ever headline show in Nova Scotia. Ali was born in Madison, Wisconsin, with albinism, a disorder characterized by the complete or partial absence of pigment in the skin, hair, and eyes. But Ali's subjects are broader than his identity, which he doesn't dwell much on in interviews or lyrics. Themes of acceptance, personal faith and love run through Ali's music and he is a mentor and leader to thousands of youth worldwide. He has performed on every continent but this will be his first show in Atlantic Canada. He has collaborated with pioneers of the art like Public Enemy, Talib Kweli and even Enfield's own Classified.
MURS - This man is the defiintion of a storyteller. Constantly challenging himself album after album. Hes worked with some of the biggest artists in the world and he even has the Guiness World Record for longest conitnuous rap of all time. He went 24 hours straight! On top of that his work with Hip Hop DX is constantly provoking deep conversation into the hip hop world we know today.
ALL DAY MUSIC, ART AND DANCE
Mawio'mi – The first ever First Nations Hip Hop Gathering. Traditional dancers and drummers will join emcees and DJs to create a special Hip Hop gathering and showcase

AQUASOCKS - Juno Nominee Ghettosocks and Halifax's Rising Star Aquakultre have joined forces to Debut their new project live on stage

Live Murals – Watch multiple 20 foot art pieces get created in just a few hours by internationally recognized artists.

Dance Battles - 1 vs 1 Breakdance battles featuring our top BGirls and BBoys winner will take home $250

The Woods will premiere the first ever piece choreographed by Assistant Director, Sara Steele. This piece is a performance collaboration between Onset Dance and The Woods. The senior Onset dancers get the great opportunity to be mentored by the professional dancers, just as Sara Steele has been mentored by Alexis Cormier. We are thrilled to feature this progression in our community and look forward to the show.
The vision of Hopscotch is to unite, energize and support the region's vibrant and diverse music and youth communities. These events provide a platform and the resources needed to advance the growth of local arts as a tool for positive youth engagement and dialogue at the individual, community and regional level.
For more details and a full schedule of Hopscotch events and shows, please visit www.hopscotchhalifax.com or follow on Facebook